About the Institute for Glyco-core Research (iGCORE)
Vision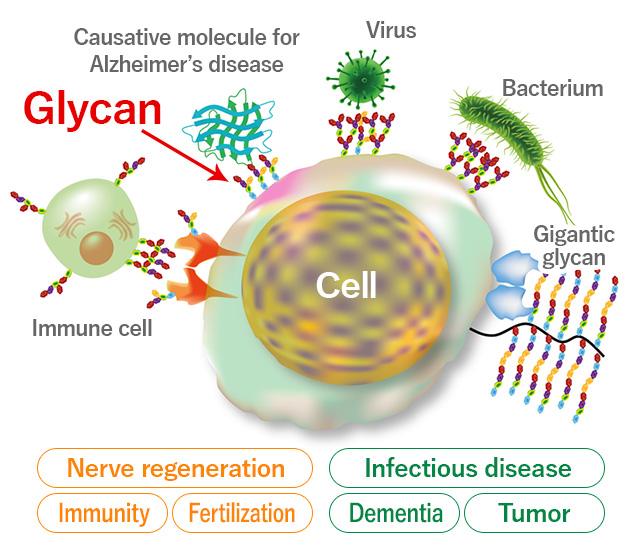 Understanding life. All cells are covered with glycans.
Glycans, the sugar chains that cover the surface of cells in our body, play an essential role in determining our cells' unique characteristics and regulating intercellular communication. These complex molecules also enable cells to recognize extracellular substances, such as neighboring cells, pathogens, and other molecules, making them critical to a range of physiological processes and diseases, including immunity, neural functions, aging, infection, tumor growth, and dementia.
Despite their importance, glycans remain largely understudied. However, glycoscience research has already led to important advances in modern medicine, including the development of glycan-targeted drugs like Tamiflu and the cancer treatment via antibodies that have modified glycans.

To unlock the full potential of glycans and improve human health, it is critical that we continue to advance glycoscience research. By investing in this field and promoting interdisciplinary collaborations and innovative technologies, we can better understand the role of glycans in living systems and pave the way for new discoveries and treatments.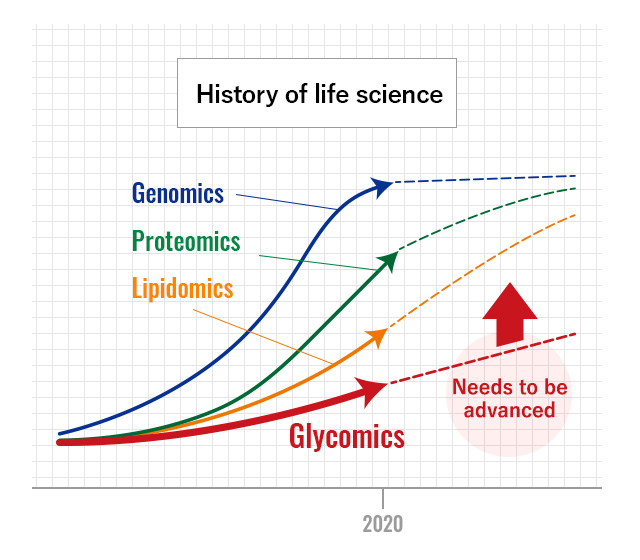 Glycoscience research will aid in full understanding of life and improve medical care
Despite their critical roles in many physiological phenomena and diseases, glycans remain relatively understudied due to several major challenges. Firstly, the structural complexity and diversity of glycans far exceeds that of nucleic acids and proteins, requiring highly specialized techniques for their synthesis, analysis, and biological investigation. Secondly, there is a lack of integrative research centers that can bring together the findings from diverse glycoscience studies to develop a more comprehensive understanding of glycan functions. Finally, while the fields of genomics and proteomics have advanced significantly due to the availability of "big data" approaches, there has been limited research on glycan big data, or glycomics (glycoproteomics).

To address these gaps in glycoscience research and promote a better understanding of the essential role glycans play in life processes, the Institute for Glyco-core Research (iGCORE) has been established. Through interdisciplinary collaboration among scientists with expertise in chemistry, biochemistry, medicine, and imaging, iGCORE aims to shed light on the functions and physical properties of glycans, as well as the properties of assembled glycans. By overcoming the major challenges of glycoscience research, we can ultimately enhance our understanding of the fundamental nature of living systems and improve medical care.
Research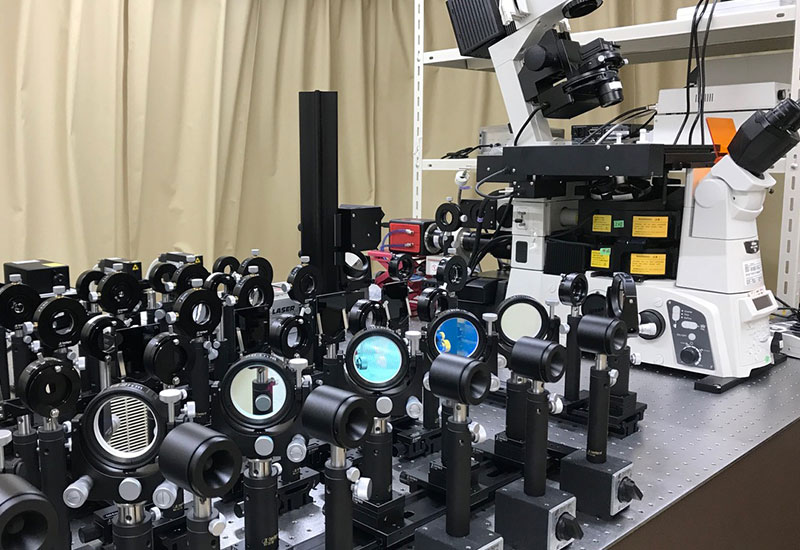 Top-notch interdisciplinary glyoscience research
Our research is dedicated to advancing the understanding of the glycans' functions and characterization as well as their association with diseases across multiple levels, from single molecules to cells and individual organisms. Through our research, we aim to develop innovative medical applications based on these insights.

To achieve this, we investigate a broad range of topics, including glycan synthesis, visualization of glycan movement, biosynthesis and assembly of glycans in cells, and the roles of individual glycans and glycan assemblies in regulating aging and disease.
Organization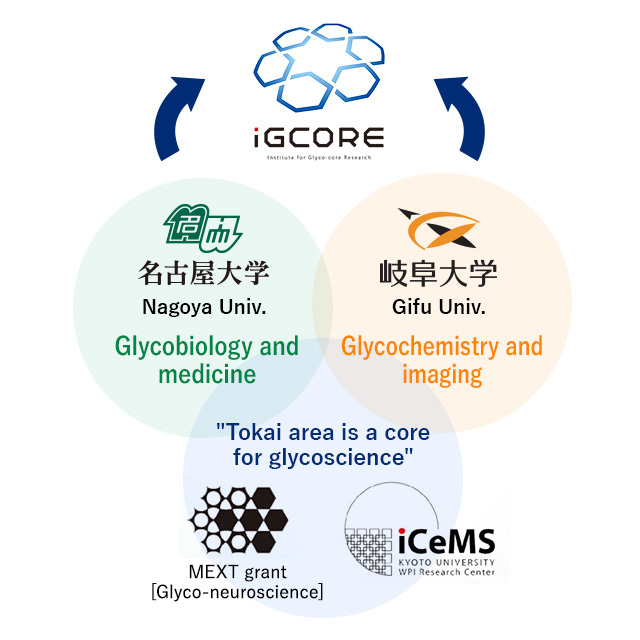 Joint research effort between Nagoya University (glycobiology and medicine) and Gifu University. (glycochemistry and imaging)
Japan is a world leader in the field of glycoscience research, with outstanding researchers engaged in glyco-chemistry, -analysis, and -biology. Among the glycoscience institutions in Japan, Gifu University and Nagoya University have established superb achievements and histories in the research of glycan synthesis and imaging, as well as glycobiology and medicine, respectively. Moreover, Nagoya University has been actively promoting glycoscience research and encouraging young researchers through serving as a research hub for the MEXT grant "Glyco-neuroscience" (headed by Prof. Kenji Kadomatsu) and for the Chubu branch of the Japanese Glycoscience Society. Gifu University has also made significant contributions to the field of glycoscience by promoting research on glycan synthetic chemistry. As the satellite for iCeMS, an international institute at Kyoto University supported by the grant of the World Premier International Research Center Initiative (WPI) program, Gifu University has been able to leverage its resources and expertise to advance the field of glycan synthesis and imaging. In 2017, Gifu University launched its "Center for Highly Advanced Integration of Nano and Life Science (G-CHAIN)" to further explore its technology and advantages. The initiative has successfully led to publish a large number of high-impact research papers.

At iGCORE, various glycoscientists and outstanding researchers in related fields from both universities work together to facilitate innovative cross-disciplinary studies. Furthermore, the institute aspires to be at the forefront of greater integrative and cross-disciplinary glycoscience by collaborating with experts in the fields of glycan analysis, glycan big data, and mathematical modeling.
International Scope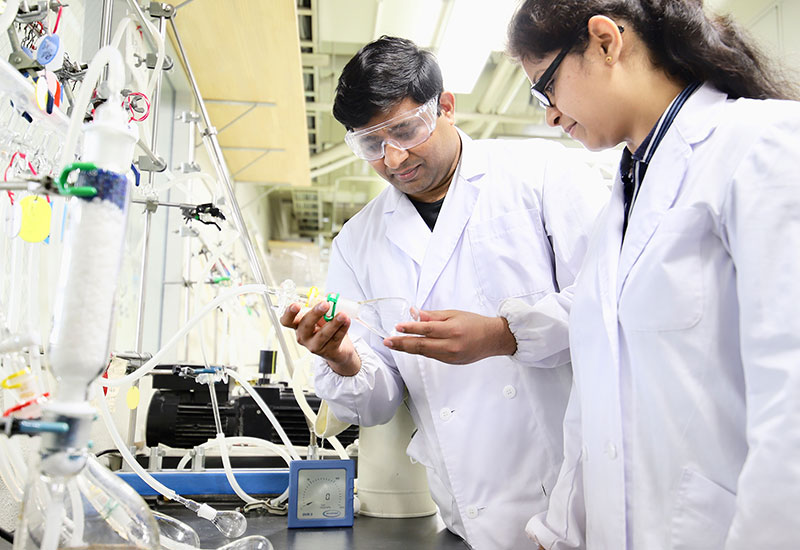 Global collaboration with other glycoscience institutes and broadening the international scope of young researchers
The promotion of glycoscience research from a global perspective, through collaboration with other global glycoscience research institutions, and personnel exchanges, is of paramount importance at iGCORE. 

iGCORE serves as the core center of the international project (Head: Prof. Hiromune Ando) supported by the JSPS Core-to-Core program. To elaborate, iGCORE conducts personnel and research exchanges with the University of Alberta in Canada, the Academia Sinica in Taiwan, the University of Lille in France, and Griffith University in Australia. As many top researchers at these institutions are highly active in various fields of glycoscience, these international exchanges help to further advance iGCORE's glycoscience research and broaden the international scope of our young researchers.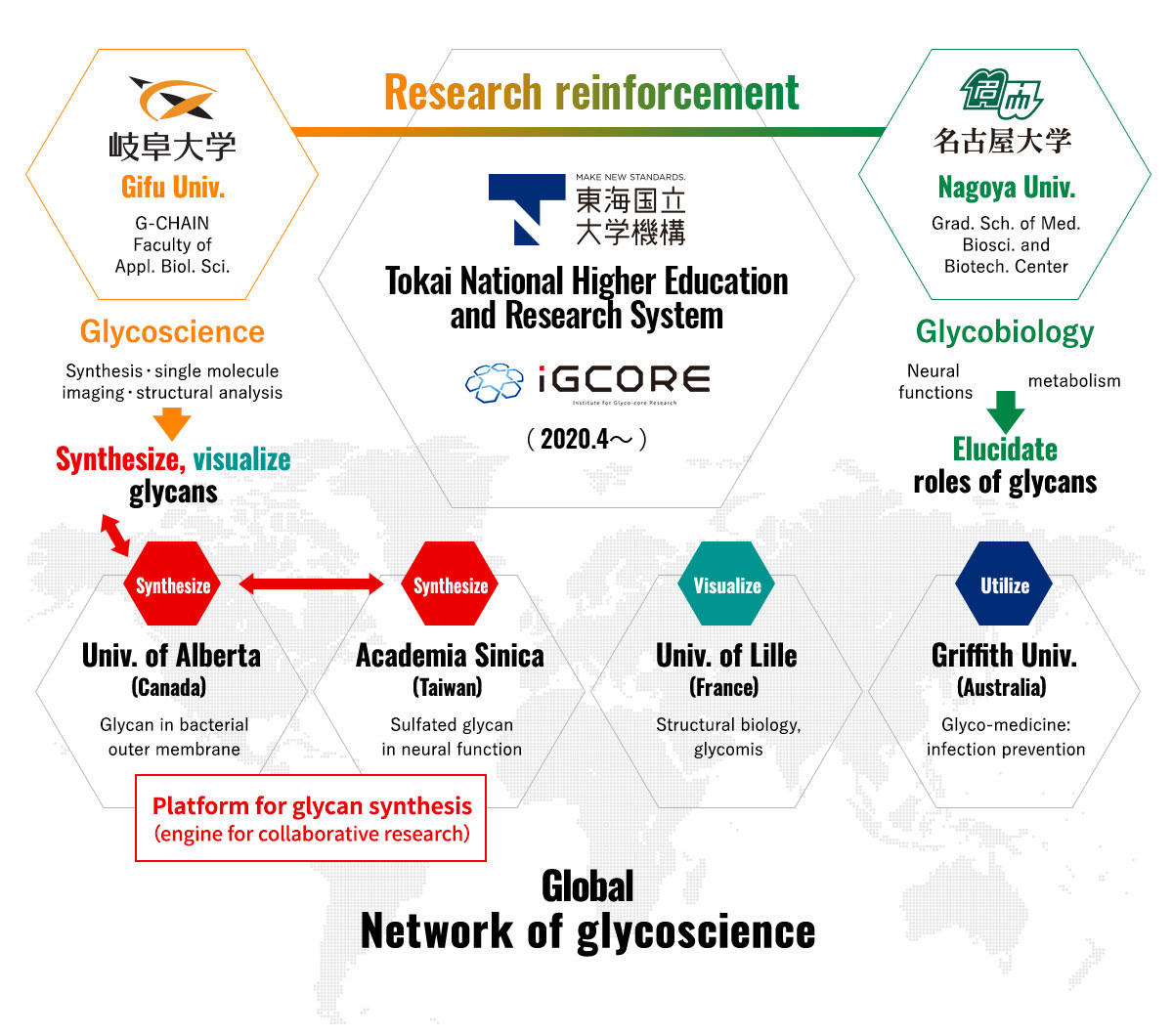 Researchers Development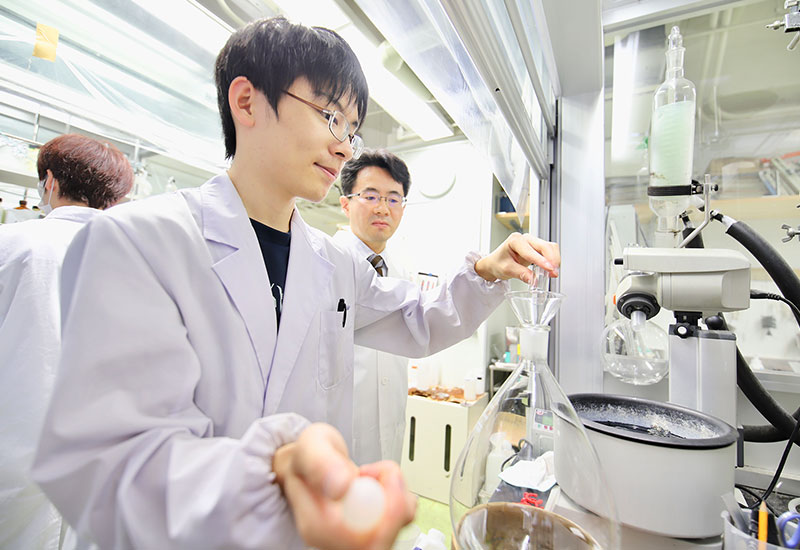 Fostering the next generation leaders in glycoscience through active exchanges with glycoscientists overseas
iGCORE aims to cultivate the next generation of leaders with a global perspective in glycoscience in Japan through active and ongoing exchanges and interactions with glycoscientists overseas.

All of the principal investigators (PIs) at iGCORE are also affiliated with either Nagoya University or Gifu University, and they are top-level researchers with diverse scientific backgrounds, including chemistry, biology, medicine, analysis, and physics. Therefore, iGCORE provides an interdisciplinary environment for advanced professional education through interlaboratory exchanges.

Moreover, many PIs at iGCORE are also members of the Nagoya University WISE Program, which is the Doctoral Program for World-leading Innovative & Smart Education, and the Convolution of Informatics and Biomedical Sciences on Glocal Alliances (CIBoG). They actively participate in graduate school education that focuses on the fusion of informatics and medicine.
If you are interested in becoming part of our active community of scientists at iGCORE, we encourage you to visit the websites of the PIs' laboratories and the CIBoG website.
Contact us